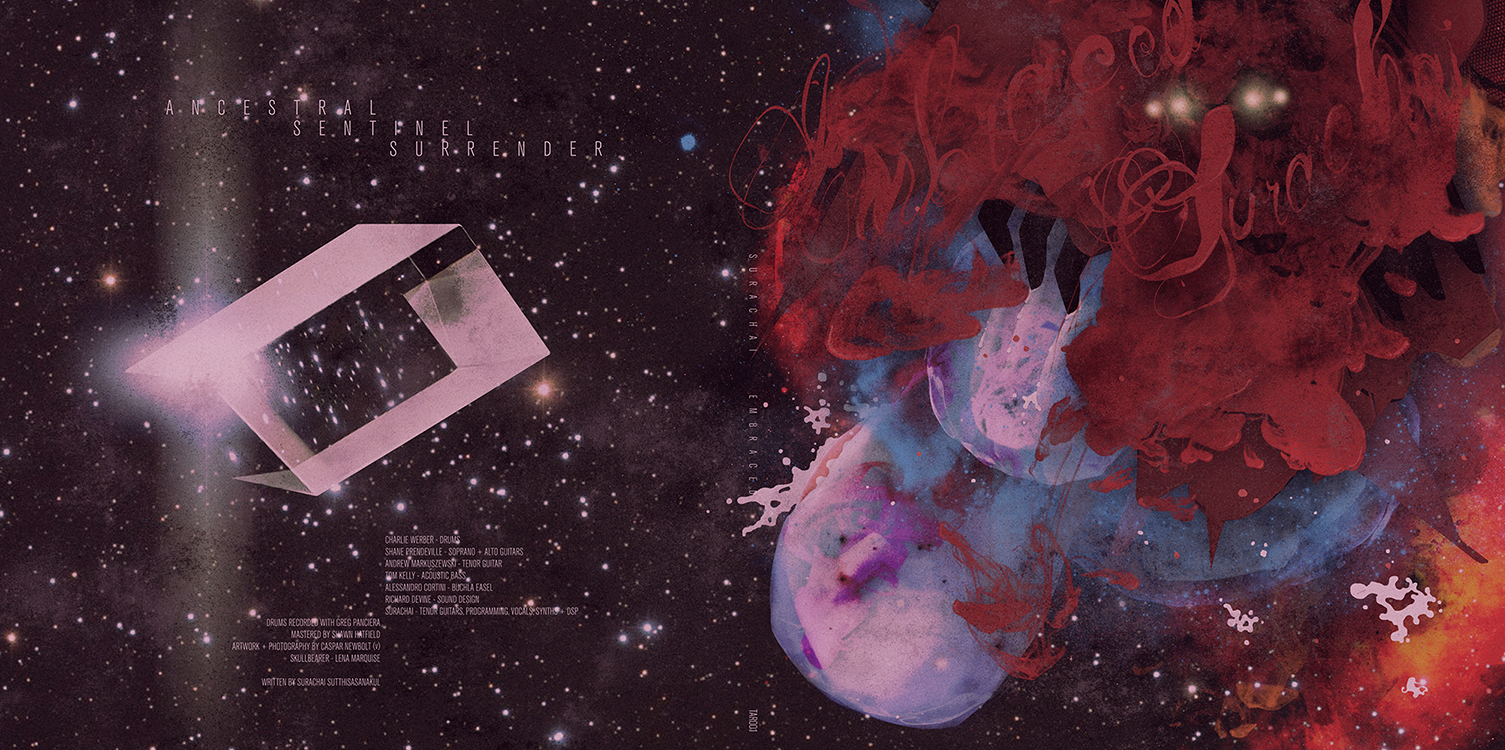 Caspar of Version Industries wrote up on the process of creating the artwork to Embraced. Here are some selected excerpts, read the entire article: HERE
"it must have been late last year that surachai told me he wanted me to work on the artwork for his next record. given he'd already employed the likes of bridget driessen and sarah sitkin to handle such duties on his last two records, it came as a great compliment. he said the record wasn't anywhere near done yet, and in typical fashion i told him i'm not really much use until i hear something closer to the final music. it's always the sense that something's close to done that allows me the chance to fully immerse myself and see what images come.
finally in march of this year i holed myself up in my studio for the weekend, put the record on loop for the umpteenth time and let loose. i remember clearly that i'd wanted to create something close to how it felt to read the end of DM thomas's novel the white hotel. this was a book i'd recently finished that had an ending so fiercely out of left-field that i'd found myself in tears on the train i was riding at the time. the feeling of despair i'd been left with was quite unmanageable and combined with a photograph surachai had shown me a few weeks before of fingernail scratch marks on the wall of a concentration camp gas chamber, i felt compelled to make him something that would tear the world down. something that at the very least was as harrowing and sad.
however, as i've learnt over the years if you go into these things trying to force a thing like that or even start with a visual idea so incongruent from what you were actually hearing in the music and lyrics of the songs, it's not going to work. i hold the belief that the artwork for a record must in some prevalent capacity be a visual response to the sound. it can speak to outside influences without question – doubtless you and the band will have discussed the many ideas that went into making the songs – but hopefully you've not been hired to simply imitate another artist or illustrate someone else's description. hopefully your job here is to interpret what you hear visually, and in so doing create something that gives people a unique and unconscious taste of what they're about to hear.
surachai didn't hesitate for a moment when i sent him the final layouts. in fact i think it was just minutes after emailing him that i got a message from him on ichat saying, 'i fucking LOVE you.' still i can't say i wasn't terrified as to what he'd think. interpreting someone else's music with a picture takes a lot of trust, and you just have to hope they really understand what they're asking when they hire you for the job. in this case i think it's fair to say we made a good match and i'm still incredibly honoured to this day to have been responsible for producing the artwork for such a fantastic record."
– Version Industries Surachai Blog
– Surachai – Embraced